In a world that is increasingly facing shortages of clean water, the Humanure Handbook promotes an alternative method for processing human bodily waste.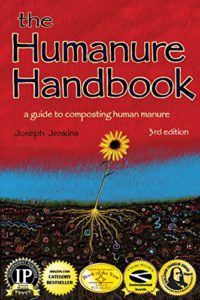 Instead of defacating and urinating in drinking water, whereafter it is flushed away to be chemically treated & discharged into the sea, Joseph Jenkins details a method of human waste composting. Easy to read & presented in lay-persons terms, the Humanure handbook as been an international success and translated into 18 different languages.
Using a method of hot-composting where the compost attains a temperature of over 60 degrees centigrade (140 fahrenheit) for an extended time, he demonstrates how all pathogens are destroyed and the resulting material is suitable for feeding trees and plants with a high quality and safe compost.
This is an essential book for every eco-warriors bookshelf. Even if you are not able to immediately start composting your own waste, it is an excellent read that shines light on the unpleasant reality of current city sewage treatment systems and the accompanying environmental damage.