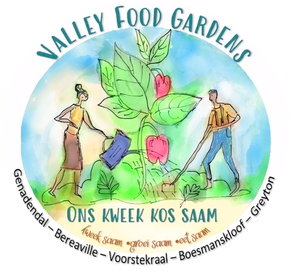 As part of the Red Cross Covid-19 Response, the Greyton Transition Town (GTT) has launched a food security initiative for Genadendal, Bereaville, Voorstekraal and Greyton, called the Valley Food Gardens, to boost vegetable production in our valley. It is led by Marshall Rinquest, the GTT Director, who has years of experience in supporting permaculture and community-based food gardens in schools and households.
​Key aspects of the Initiative:
Four community-based Hubs are being developed, one in each town in the Valley, based with existing successful growers;
The Hubs will supply seedlings, compost/manure and support "packs" to members (households), including those receiving food parcels;
The Ecolodge is the core Hub. It is already producing seedlings to kickstart the process. A local farmer is providing kraal manure;
The Hubs will be developed over time, with training and coaching into sustainable businesses, based on permaculture principles;
We are preparing a nutrition education campaign to promote leafy greens and other immune system boosting vegetables;
Extra seedlings and compost/manure are being produced at the Ecolodge for sale to wealthier residents, to provide income to support the whole initiative;
In the next phase we will also support local small farmers to boost their production, set up more local marketplaces and a veggie-box subscription service.